Valve Disease Treatments
Each patient's course of treatment depends on several factors, including the type, location, and extent of heart valve disease; the patient's health, tolerance for specific medications, procedures, or therapies; and the patient's opinion and preference. After considering these factors, the patient may be prescribed medical supervision, medication, valve repair surgery, or valve replacement surgery.

Medications
Medications can include beta-blockers, digoxin, and calcium channel blockers, which control heart rate and fibrillation. Blood pressure medication, like diuretics and vasodilators may also be prescribed.

Surgery
UAB is a regional valve surgery referral center for Alabama, as well as Mississippi, Florida, Georgia, and Tennessee, performing more valve surgeries than any other hospital center in Alabama. The surgeons at UAB provide expert care in heart valve repair and heart valve replacement for adults and children.
Many patients needing isolated valve surgery can be treated robotically or minimally invasively, which speeds recovery and reduces complications. UAB is also one of a few centers in the country with a dedicated team of cardiac surgeons, cardiologists, and cardiac anesthesiologists performing transcatheter aortic valve replacement for high-risk patients with aortic or pulmonic stenosis.

Robotic Valve Surgery
This surgery uses one of the country's leading robotic surgical systems to allow the surgeon to repair malfunctioning valves endoscopically (using a scope and small incisions), without splitting the breastbone. The robotic endoscope magnifies by a factor of 10 and lets the surgeon see in 3-D, while miniaturized instruments let the surgeon work on the valve without making any incisions in the chest larger than 1 inch. Currently, the mitral and tricuspid valves that have leakage (regurgitation) are most commonly repaired robotically. Learn more about robotic heart surgery at UAB »
Aortic Valvuloplasty
Aortic valvuloplasty is used as a bridge to aortic valve replacement surgery or to improve quality of life for patients who are not candidates for major heart surgery. Balloon valvuloplasty is a non-surgical procedure in which a balloon catheter is threaded through the groin into the heart. The balloon is then inflated, stretching the valve back open.
Minimally Invasive Valve Surgery
This type of surgery involves smaller incisions than standard heart surgery, but larger incisions than robotic surgery. The surgeon is able to see the valves directly, and works with longer, shafted instruments than usually used in standard heart surgery (splitting the entire breastbone). Typically, minimally invasive valve surgery is recommended when valves need replacement rather than repair, or when the repair is complex. Any of the four heart valves can be reached using some form of minimally invasive surgery.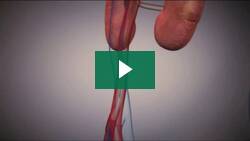 Transcatheter Valve Replacement
More than 3,000 Americans are afflicted with aortic stenosis—or hardening of the aortic valve—and more than 1,000 of them are ineligible for traditional open heart surgery to repair it. Patients who are too old or weak to undergo surgery had few options, until the Transcatheter Aortic Valve Replacement (TAVR) procedure, which was recently approved by the FDA. The new procedure eliminates the need for open heart surgery and results in a shorter recovery time.
Transcatheter valve replacement is a newly developed method of replacing malfunctioning heart valves without any large incisions and without use of the heart-lung machine (cardiopulmonary bypass). In a "hybrid" operating room with both surgery and X-ray capabilities, a multi-disciplinary team of cardiologists, surgeons, and anesthesiologists places a guidewire through the malfunctioning valve, either from the groin or through a small incision between the ribs in the chest. The new, replacement valve is compressed on a flexible tube (catheter), positioned inside the patient's malfunctioning valve with imaging guidance, and then expanded to "replace" the malfunctioning valve. Until recently, this type of valve replacement was investigational. However, it is now approved by the U.S. Food and Drug Administration for the treatment of patients with severe symptomatic native aortic valve stenosis. It is only being used in patients deemed "too sick" for a conventional valve surgery. Currently, only aortic and pulmonic valves can be treated in this fashion. UAB is one of a select number of sites offering this treatment.
Recovery
After treatment, many patients are prescribed cardiac rehabilitation to maximize cardiac function and foster a sense of well-being. Patients may also consult with dietitians, diabetes educators, pharmacists, psychologists, and other specialists during rehab and recovery.
Learn more about heart valve disease »
Get Help
If you think you may have valve disease, talk to your physician about your symptoms and ask if a referral to UAB Heart and Vascular Services may be right for you. Referrals may be made by calling MIST at 1.800.UAB.MIST (1.800.822.6478)
Patients can get more information, by calling UAB Healthfinder at1.800.UAB.8816 (1.800.822.8816) or by filling out our Make an Appointment form »